For those of you planning your future Caminos, I'm sharing my Camino Packing list with you – from the big things (Backpack, shoes, sleeping back) to the small details (shampoo and toothpaste), and everything in between.
Big Stuff
Backpack: REI Stroke 29
The REI Stroke 29 was my Camino Backpack of choice – and at 29 Liters, it had plenty of space for everything I needed to shove into it (and some). A rain cover is a must on any long trail – you never know when it might rain, and the last thing you want is for all of your clothing to be soaked when you get into your final destination for the day. After all – unless you have a drier, nothing will dry hanging on a damp, humid, rainy day.
Shoes
When it comes to shoes – they are your most important piece of gear along the Camino. If you love your feet, they will love you back. So.. what worked for me, may not work for you – so try and try again until you find what does. My shoe arsenal included: Altra Olympus sneakers – that my feel loved for the first 3 weeks; Teva Sandals – that I was forced to buy (again after sending my exact same pair home – long story for another time) – these I walked in for the last 2 weeks when my feet were done with the Altras. and finally ultra light flip flops – these were purchased the day I sent my Tevas home, in an attempt to lighten my load. Needless to say – at the end of the camino, I ended up with 3 pairs of shoes.
Now for some of you hiking boots may work best. For some hiking / trail sneakers may do. Others have done the camino in the FiveFinger toe shoes. Or simply hiking sandals. All feet are different and you will need to try shoes on to see what works for you. In my case I have very wide feet. Even Tevas (which tend to be on the wider side) were too narrow for my feet. So, after visiting my local EMS store, the sales guy there told me to try Altras (they might just be the widest shoe on the market), and also to try toe socks. And my tootsies loooove toe socks. Thanks EMS Guy! (I brought 4 pairs of toe socks, and one pair of regular ankle running socks – ended up giving away one toe pair to a fellow peregrina suffering from toe blisters – she LOVED them too).
Sleeping Bag:
Western Mountaineering HighLight 35 Degree down sleeping bag was my bag of choice last time around. This baby is Super Light, Super Warm (at least in the spring / summer / fall months), and Super Expensive. Now I chose this back 3 years ago – because I wanted an ultra light sleeping bag that rolled up super small and that would last me the rest of my life. And this bag has been on the camino 4 times now (once with me, once with a friend, once with my mom, and again with me this time around). It has also slept in Zion national park and in the Catskills. And it has kept all of it's inhabitants warm and comfy so far. The best part.. it weighs less than 1lb.

Aside from my sleeping bag, I also brought the Sweecatch Travel / Camping Sheet and I must say, this little baby was fantastic. Its big enough to cover the entire twin mattress (the typical size of a bunk bed in an Albergue along the camino). It also allows you to sleep on top, or climb inside and use the top portion as a cover on the super warm days. And has a dedicated pocket for a pillow. This one was used in absolutely every albergue and with and without my sleeping bag.

Now sleeping bags / sleeping sheets will also differ based on your needs and preferences. If you're budget tight, there are plenty of budget friendly options out there (although they will be heavier). If you're going in the warmer months, you can probably get away with a sleeping sheet / sleeping back liner (click here for various options).
Clothing
Bottoms:
Running Skirts are great for hiking in the summer. On my last Half Camino 3 years ago I walked in shorts and hiking pants. Although these worked fine, I am not a shorts kind of a girl, and Pants were too hot to wear on certain summer days. So this Camino (a full one this time) I walked in a running / tennis skirt. Now these are lovely for the ladies who love summer dresses / skirts – particularly because these come with built in shorts underneath, and hence (a) prevent thigh chafing, and (b) protect your bum from being exposed when the skirt flies up in the wind.. or you're hiking up a mountains, or steps – you get the picture. My favorites this time around were the Pleat to Street skirts from Lululemon. These skirts are fantastic – not only are they light, comfy, and adorable – they also come with 5 pockets (two in the waist band, one zippered one in the back, and two on each leg of the shorts). Now products from Lulu can be quite pricey.. however if you can find them on sale, you get a quality product for a fraction of its retail price. I bought these skirts for $20-40 each (rather than their retail value of $68). Now because I'm a total girl… I couldn't get by with just one. I brought two with me (my dear Camino friends talked me out of bringing the 3rd one… and good thing they did). My colors were – a solid black one (for the days in big towns, so I don't look like a total pilgrim), and a funky grey/purplish/flowery one for the actual daily hiking. Now the flowery one was absolutely perfect for the dusty trails, as you couldn't see the dirt or dust that collects on you from the day's walk (and they had bright neon shorts to keep the day more entertaining). And I must say, they were a hit along the Camino with my fellow peregrinas.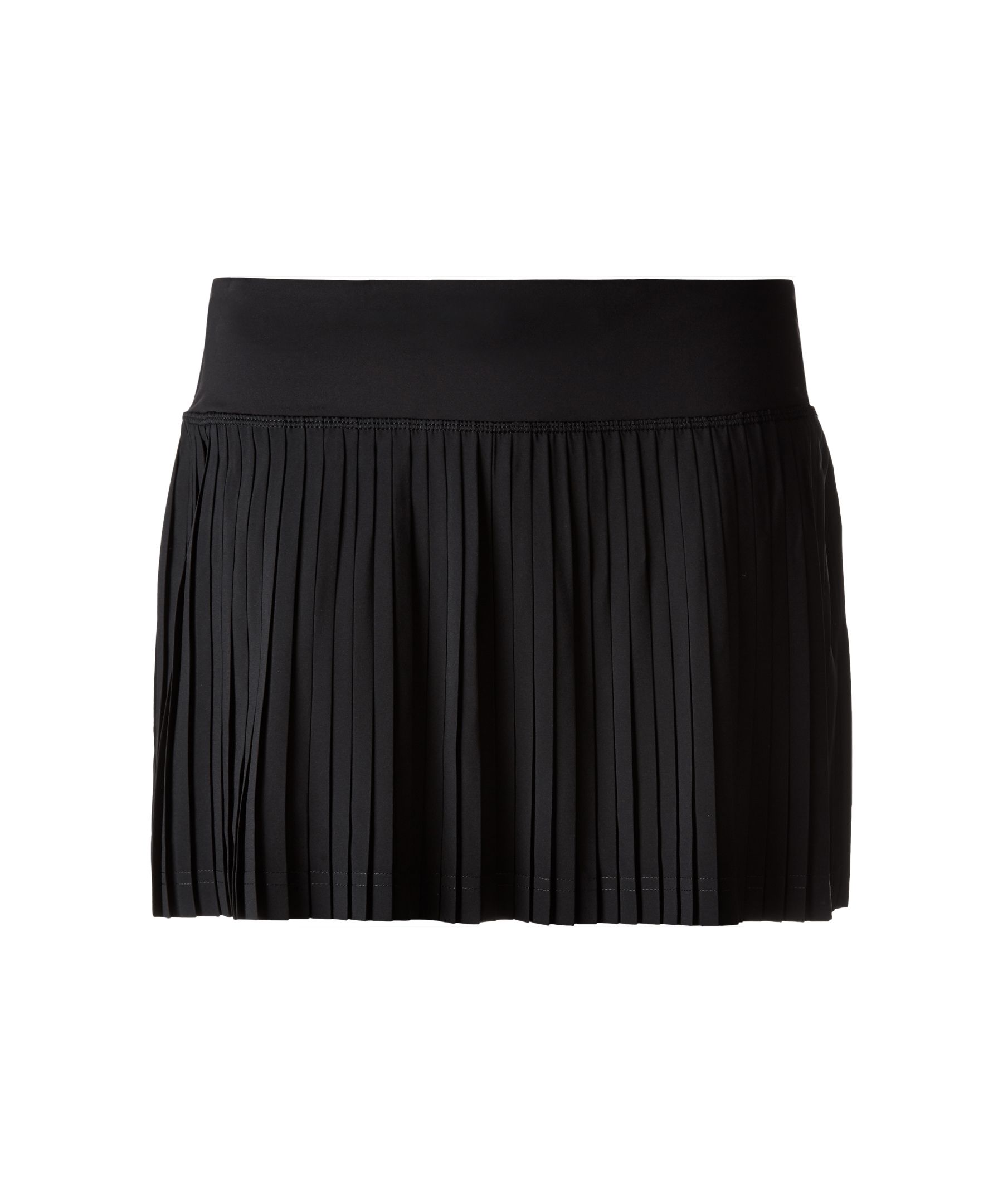 My other Bottoms included: 1 pair of hiking pants (Aspire Ankle Pant by Athleta) and 1 pair of 3/4 length tights. Here's the reasoning for these two: The hiking pants I wore on cold days (when I knew the weather was not planning to go above 60/70 degrees (I had a couple of these in June), or in the evening while my 3/4 tights were drying. The 3/4 leggings I purchased in Spain after sending home the full length ones I originally brought with me. These new ones served as an extra layer under my skirt during chilly mornings (which I would take off half way through the day once it warmed up), and also as my pajamas on those days I pent in an albergue or in a shared room with others. Lesson for the future: leave the hiking pants at home, and bring a pair of ultra light shorts for sleeping, and use the tights for hiking / cold evening days.
Tops:
Even though tell my camino peeps that you really don't need more than 3 (or so) tops.. I did end up bringing more.
My go to hiking top was the Nike Dri-FIT Cool Breeze shirt & tank top. Now these two were absolutely fantastic – it weighed nothing, dried super duper fast and was light and airy.
I also had two other Nike Legend Veneer V-Neck T-Shirts – although I could probably have gotten away with just one of these, but since I am a girl.. and I couldn't decide on a color – I brought both.
For my longer sleeve options, I had the Nike Dri-Fit Element 1/2 Zip long sleeve shirt, which was a lifesaver on the cooler morning / evenings.
And finally, my jacket(s). Now I originally brought 2 – a rain jacket (it only rained twice in 34 days of walking), and the Patagonia Nano Puff. Now I love love love my nano puff, and week 2 into my Camino (and during an unexpected heat waive) I sent it home. No sooner than it left my hands, the weather dipped back to the high 40's / 50's and I there were many nights (and colder days) when I wished I had it with me.
A tip for all you petite ladies out there. Quality hiking gear, especially jackets – can be quite pricey. to save some $$ by checking out the kid's section. Take the Patagonia Nano Puff for example – an woman jacket costs $199 ($150 if on sale), where as a kids/girls sizes cost just $99 (and often on sale for $50-$70). Now when it comes to sizing – an Girls XXL is almost the same size as a Women Medium (granted you don't have super long arms). In my case, the XXL fit me perfectly. The only two differences between the jackets were: the arms on the Girls XXL were a bit shorter (but then again, I'm only 5'1″ so the length of my arms wasn't an issue), and the woman's size is slightly tailored at the waist (now who needs a tailored waist in a puffy jacket? – I'd rather keep that extra $100 in my pocket and live without a tailored waist). Next time you're shopping at REI or EMS – check out the kids XL / XXL sisez, they may fit you and save you a couple of bucks along the way.
Toiletries
Toothpaste:
To go along with your super light travel toothbrush, we also need toothpaste. My go to for travel is Toothy Tabs by LUSH cosmetics. These are great! They're solid toothpaste tabs. Pop one into your mouth, chomp down on it a few times, and brush. They brush up into a nice leather and leave your mouth feeling nice and fresh. They also come in various flavors. My favorite one (and probably the most standard toothpaste tasting one is Miles of Smiles). Now if you get them from a US Store, they come in a little paper match stick box. I personally prefer the ones from their online UK Store. They come in a bottle – why I like them you may ask? I'm all for anything waterproof – after all your toiletry kit may get wet, and you don't want the flimsy paper box that the US version comes in to disintegrate on you mid-trip. Below are the two options (bottle = UK Online Store; Paper Box = US Stores)
Shampoo / Body Wash / Shaving… and much much more:
This is a one bar wonder. Technically it's a Solid Shampoo bar… but I have a tendency to use it on anything and everything – Hair, Face, Body, Shaving my legs, Washing my Clothing (if nothing else is available). These shampoo bars are light weight and solid – hence going though security will be a breeze. If you use this for your hair only, it will easily last 4+ weeks. If you use if for all your washing tasks (like I did), it should last 2+ weeks. So if you bring 2 – it will still be lighter than bringing: Shampoo, Body Soap, and Clothing Soap/detergent to last you the 4-6 weeks you will be on the Camino. Again the ones I like are LUSH brand and can be quite pricey at @12/bar – but ohh so worth it in my book. My hair felt great, everything else smelled good, and it was a breeze to transport in it's handy carrying case. Again both the US & the UK store carry these (although sometime in different flavors). Check them out.
Here's a tip if you do use the designated carrying case for these shampoo bars – as there is no draining holes in the case, leave the bar in the lid overnight to dry up – this will help it last longer, and prevent it from becoming mushy because of the constant moisture. If you dry your bar out after every use, it will last for much much longer.
Hiking Poles: Black Diamond Distance Z Trecking Poles (12oz)